Brief List of Uyghur Literary Works
9th Century AD

Muhemmed Musa Harezmi (780-850) Hiwa, 20 yashlarda Baghdadqa barghan, "Muhteser Sindi Hind", "Eljebir we Muqebela", "Astronomiyalik Jedwel", "Quyash Saiti Heqqide Risale", "Yer Teswiri Kitabi", "Yehudilarning Tarihi we Ularning Bayramlerini Belgulesh"
10th Century AD
Bughrahan Hesen yaki Harun Bughrahan (991-993) Mollahaji "Bughrahanlar Tezkiresi"de uning bir qisim nezmiliri bar ikenlikini tilgha alghan, bizge yetip kelelmigen.
11Th Century AD
Abdulghappar Ibn Huseyin (1010?-1082). Qeshqer, "Tarihi Kashgheri", "Meskeni Ustadiyan" yoq
Huseyin ibn Helef Kashgheri (973-1093) Qeshqer, Mehmud Kashgherining ustazi, Quranni sherhilep eser yazghan.
Mehmud Kashgheri (1011-1105) Qeshqer, Baghdad. "Diwan Lughat-it-Turk" bar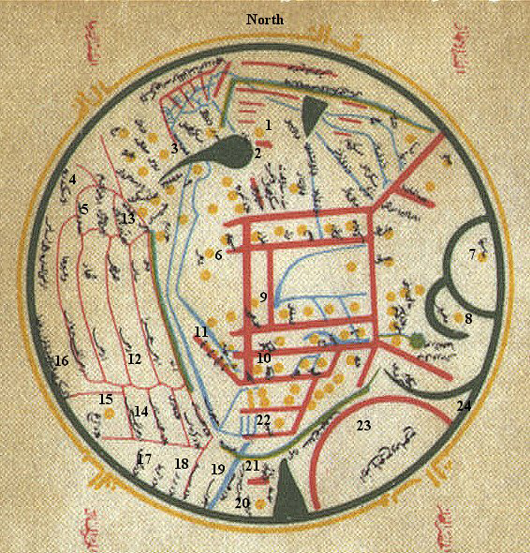 The First Turkish World Map, by Kashgari (1072)
Mejdidin Muhemmed Ednani (10-11 esirler) Qarahanilar tarihini yazghan, yoq
Yusup Has Hajip (1019-1085) Balasaghun, Qeshqer, "Qutadghu Bilig" (1069) buning Ferghane, Wienna we Istanbul 3 nushisi bar.
Yusup Qadirhan (1024-1032) Qarahan Hesen Bughra Hanning oghli we warisi. bezi sheirleri "Bughrahanlar Tezkirisi"ge kirguzulgen.------------------------------------.
• Gerdizi "Zeynul Ehbar"

12th Century AD
Ehmet Yukneki (1110?-1180?) Kashgar, "Etebetul-Heqayiq"
Muhemmed bin Eli Jaffar (12- esir) Semeqend, Qarahan Mesud bin Eli Qelich Tabghach Han (1156-1162)gha beghishlap "Dolet Siyasetining Asasi Olchemleri" namliq bir eser yazghan, yoq.
Nizamulmuluk (1092-?) Seljuq, "Siyasetname"
Yusup Sekkaki (1160-1229) Ili, Almaliqta chaghataygha meslihetchi bolghan, "Miftahul Ulum"

13Th Century AD
Alawidin Atamilik Juweyni (1226-1283) Hurasan, "Tarihi Jahan Kushahi"
Jamal Qarshi (1230-1310) Ili, Kashgar, "Surahullughet" (1303) Parsche, "Mulaqatulsurrah" Arabche.
Janibek Ogdulmish (1190-1256?) Issiq Kol, "Ogdulmish Oghli Janibekning Bashtin Kechurgenleri" ?
Rabghuzi (1310) Mesridin Burhanidin oghli Rabghuzi, Harezm, "Qissei Rabghuzi"
"Jamiul Tewarih" bezide "Persiye Tarihi" depmu atilidu. Rashidin Fezululla yazghan.

14th Century AD
Heyder Harezmi (14-15 esir) "Mehzunul Esrar" yoq (ismi "Tezkiretul SHuira", "Mejalsun Nefais"larda tilgha elinghan)
Lutfi, Mewlane Ebeydulla (1366-1465) Heart "Gul we Newruz", Diwani Lutfi" bar
Sekkaki (1380-1465) Semerqend, bir diwani Biritish Museumda.
Seididin Kashgheri (1377-1456) Kashgar, Heart, Abdurahman Jamining ustazi, "Munyetul Muselli we Gheynetul Mufteda", "Kelimet Hoja Bahaidin", "Risalei Letaif", "Wujudname"
Seyfi Serai (1321-1396) Mawarennehr, Saray, "Gulistan Bit Turki", "Suheyil we Guldursun" bar.
Yusup Emiri (14-15 esir) Mawarennehr "Dehname", "Beng we Mey Arsidiki Munazire" we bezi ghezelleri yetip kelgen. Newai Mejalisunda eghizgha alghan

15th Century AD
Durbek (1409) Belsh, "Yusup-Zuleyha"
Elishir Newai (1441-1501) Heart. 24 eser yazghan
Huseyin Bayqara (1438-1506) Heart, "Risalei Huseyin Bayqara" Tashkentte ilan qilindi. Nawai "Mejalisun Nefais"te uninggha yuquri baha bergen.
Gedai, Mewlane (?-1404) Mewarennehr, Herat, Newai "Mejalisun Nefais"te melumat bergen, uning diwani 1973- yili Tashkentte elan boldi.
Mehmud Han (?-1509) Gherbi CHaghatay hani, "chingghizname"de uning bir qanche misra sheiri bar
SHah Gherib Mirza (15- esir) Mawarennehr, Newai "Mejalisun Nefais"te uning "Yana" radipliq ghezilidin misal alghan.
SHah Quli Uyghur (15- esir) Mawarennehr, Newai "Mejalisun Nefais"te uni muemma turide sheir yezishqa mahir dep tilgha alghan.
Seid Ehmed (1435) Mawarennehr, Emir Tomur Koreganning newrisi, "Teeshshuqname"
Yeqini (15- esir) Mawarennehr, "Oq we Ya Munaziresi" bar.

16th Century AD
Amannisahan (1534-1567) Yarkend, "Ehlaq Jemile", "SHuruhulqulup", "Diwan Nefsi", "Ishret Engiz" bular yoq.
Ayazbek Qoshchi (16- esir) Yarkend "Tarihi Reshidi (Zeyli)"de ikki sheiri bar; "chinggizname"dimu tilgha elinghan
Emiri. Hoten, "Diwan Irfan Emir Ferghane", "Bayaz"da bar.
Seidi (1484-1533) Aqsu, 2 sheiri "Tarihi Reshidi (Zeyli)" arqiliq yetip kelgen.
Mejlisi (1533) Babur huzurida ishligen "Qissei Seyfulmuluk" bar, "Seyfulmuluk- Beduljamal"
Muhemmed Mirza Heyder Koregani (1499-1551) Tashkent, Keshmir, "Tarihi Reshidi"
Qelemdar Beg, Ibrahim Beg (1499-1569) Maralbeshi, "Qarlighach Hanim", "Saadetning Qapqini", "Beglerge Meslihet", "Bilimge Medhiye", "Dolan Tarihi" larni yazghanliqi melum. yoq.
Qidirhan Yarkendi (?-1572) Yarkend. muzikant, "Wisal", "Diwan Qidiri" yoq.
Mirza Zirek chalish (16- esir) Qarasheher, Kashgar. "Tarihi Reshidi (Zeili)"de bir qanche sheiri bar
Reshidi (1510-1570) Abdureshidhan, "Diwan Reshidi", Selatinname", "Kitabi Tenbiye-enterbiye" bular yoq, "Tarihi Reshidi (Zeyli) de uning 2 Parsche sheiri we 3 ghezili hatirlinip qalghan.
Mirza Heyder (1533) "Jahanname"

17th Century AD
Ebul Ghazi Bahadirhan (1603-1664) "SHejerei Turk"
Bubi Zeynep (1660) Yarkend
Harabati (1638?-1730?) Aqsu, "Kulliyat Mesnewi Harabati" bizge yetip kelgen.
Mehmud Joras (1620?- ?) Yarkend, "Tarih SHah Mehmud Joras", "Tarihi Reshidi – Zeili"
Meshrep, Babarehim (1657-1711) Nemengan, Kashgar, "Mebdei Nur", "Diwan Meshrep" bar
Molla Fazil Kichik (1652-1710) Yarkend, "Leyli-Mejnun"
• Zileyha Begim, Afaq Hoja(1626-1694)ning anisi, Kashgar, "Silsile Tuz Zehep"te yezishiche Hapiz SHirazi sheirlerini mutalie qilghan, Zileyhaning bezi terjimileri "Bayaz" di chiqti.
Zulfiye Kashgheri (17- esir) Kashgar, "Diwan Zulfiye" yoq.
18th Century AD
Bubi Mesum Ezizem (Yarkend)
Esiri (18-19 esirler) Hoten. "Bayaz"larda bezi eserleri bar.
Abid Qumuli (17-18 esirler): Qumul, "Bayaz"larda qismen sheirleri bar.
Emini, Qumul "Bayaz"da 11 ghezili ilan qilindi.
Gheyreti (18- esir) Hoten, Yarkend. "Bayaz"da bir parche sheiri bar
Futuqi, Hoja Sidiq (1717-1756) Ili, Yarkend. Bezi sheirleri yetip kelgen.
Hoja Jahan Ershi (1685-1755) Hojend, Yarkend, "Diwan Ershi" bizge yetip kelgen.
Ibrahim Ibn Yusup (1775) Hoten, "Mentiqutteyr" bar
Ibrahim Meshhuri (18-19 esir) Yarkend, "Diwan Meshhuri" bar
Mehzun, Ismail (18- esir) Hoten, "Diwan Mehzuni"
Molla Salih (1742-?) Qaraqash, "Molla Salihning chechekni Hejwi Qilghani" muhemmes
Molla Abdul Elim SHair Ahun (1756) "Islamname"
Molla Muhemmed tomur (1717) "Kelile we Demine" Parschidin terjime, "Ehlaqul Muhinsin" Parschidin terjime.
Molla Niyaz (1777-?) Hoten, "Tezkirei Imam Zebihulla" (1797, tot imam tezkiresi)
Molla Heyder (18- esir) Hoten, "Jangnamei Hezret Ili", "Rewzetush SHuhuda", "Emir Abamusilim" ni Parschidin terjime qilghan.
Molla Yunus Yarkendi (18- esir) Yarkend, "Muhebbetname" (1755 Abdurahman Jamining Yusup Zileyha dastanini Parschidin terjime qilghan)
Muhemmet bin Abudllahan Mehdum (18- esir) Aqsu, "Ming Bir Keche"ni Arabchidin terjime qilghan.
Muhemmed Hoja Nizamidin (1837) Qaraqash, Firdewsi "SHahname"sini terjime qilghan.
Muhemmet Tomur Kashgheri (17-18 eris)Kashgar, "Kelile we Demine", "Yusup-Zileyha", "Ehlaqul Muhsin" larni Parschidin terjime qilghan.
Muhemmed Sidiq Reshidi (1715-?) Atush, "Sidiqname" (1785-7)
Muhemmet Sadiq Kashgheri (1740-1894) Kashgar, "Tezkirei Ezizan", "Edebussalihin", "Zubdetul Mesail Wel Eqaid", "Tezkirei Eshabulkehf", "Tarihi Iskenderiye we Tajinamei SHah"
Muhemmed Ewez (18-19 esir) Qaraqash, "Mehdum Ezem", "Mejmuetul Ehkam"
Muhemmd Imin Hojamquli Hirqeti/Gumnam (1634-1724) Kashgar, "Muhebbetname we Mehnetkam" (1670)
Mutribe (18- esir) Kashgar, Perghane (K. Birowkof "Til-Edebiyat we Tarihi Mesileler" Alma-Ata 1948)
Nobiti (1696-1760?) Hoten, "Diwan Nobiti" (1747) bar.
Omer Baqi (1730-?) Yarkend, Newaiining "Ferhad-SHerin" we "Leyli-Mejnun"lerini nesrileshturup chiqqan.
Qasimi (1799) Kashgar, "Tezkirei Arslanhan" bar
Qelender (?-1747) Kashgar, Hoten "Diwan Qelender"
Qisuri, Molla Ehmed Ghojamniyaz (1717-1827) Pichan, "Rewzetil Zohra" bar.
SHah Hijran (1752) SHah Muhemmed Imin Ahun Ibn Hoja Nizamidin (1752) Yarkend, "SHahname"ni terjime qilghan "SHahname Turki"
Zelili (1672-1745?) Yarkend, Hoten. "Diwan Zelili", "Sepername", "Tezkirei CHihliten", "Tezkirei Hoja Muhemmed SHirip"
"Alwan Nahshisi" 1769- yilidiki Uchturpan qozghilingi basturulghandin keyin chiqqan

19th Century AD
Asi (19- esir): "Zefername"
Ahun Aghicha (1833) Hoten, inqilap serkerdisi Abudrahman Han Ghojaning anisi. qoshaqchi
Ashur Ahun Gheribi (1860): Hoten, "Emir Ali" dastani
Abdurehim Nizari (1776-1850) Kashgar. "Gheribilar Hikayesi" (Ziyai, Gheribi bilen birlikte), "Dibache", "Leyli-Mejnun", Perhad-SHerin", "Rabie-Seidin", "Durulnejad", "CHahar Derwish" (Ziyai bilen)
Dilber Dorgha (19- esir), Qaraqash, shaire, "Mezlumlar Ahi" bar.
Ehmetshah Qaraqshi (1740-1828) Qaraqsh, "At Qissisi", "Pul", "Mewiler Sohbiti", "Qichishqaq"
Gheribi Heste (19- esir) Hoten, "Hemzename" 1882- yili kochurulgen.
Hemra Bubi (19-esir) Aush, bezi ghezelliri ilan boldi.
Hislet Kashgheri (1785-?), Kashgar, Qoqand, "Mejmuetul SHuira"
Hoshhal Gheribi (1845). Kashgar. Qoqand, "Kulliyat Gheribi" bar.
Ismail Beg Binishan (1827) "Pendname", "Diwan Binishan"
Imiri (1822-?) "Diwan Imiri"
Mehmud Hekimbeg (1814-1907) Atush, 1876-yili Kashgar hakimi bolghan, helq ichide bezi sheirleri bar
Mehmud Qari (1862-1910) Hoten, "Diwan Qari"
Molla Baqi (1842-1917) Kucha, "Beg bilen Qoy Heqqide", "Kelturmishim", Qimarwazning Hesriti"
Molla Eli Qushchi (1835-1902) SHayar, "Diwani Eli"
Molla Seidulla (1840-1913) Yengsar, Poskam. az sheirleri yetip keldi.
Molla Sidiq Yerkendi (1813) Yarkend, "Hemse Newai Nesri", "CHahar Derwish" Parsichidin terjime.
Molla Musa Sayrami (1836-1917) Bay, "Tezkiretul Ewliya", "Derbayan Eshabulkehf", "Tarihi Eminiye", "Tarihi Hemidiye", "Diwan Mesniwi", "Salamname", "Tezkirei Hoja Afaq", "Ferhad we SHerin"
Molla Zeydin (1815-1880) Pichan, letipe, "Almihan Qoshighi"
Molla Tohti (1840) Aqsu, "Erziyet"
Molla Qurban (1850) Hoten, Keriye, "Dastani Imam Jeferi Sadiq"
Molla Muhemmed Siyitniyaz (1834-1931) Lukchun, "Melumati Afaq" Parschidin terjime
Molla Muhemmed Niyaz (1856) Yengisar, "Mensur"
Moll Muhemmed Niyaz Yarkendi (1846) Yarkend, "Qissesul Gherayip", "Tarihi Reshidi" Parschidin terjime
Molla Qushchi (19- esir) "Bazname" bar
Molla Tohti Gheribi (1816-1951) Lop, "Tohpetul Ushshaq Sani"
Molla Mirsalih (18-19 esirler) Kashgar "CHinggizname"
Molla SHakir (1805-1870) Aqsu, "Zefername"
Molla Bilal Ibn Yusup Nazimi (1824-1900), Ghulja, Yarkend, "Ghezeliyat", "Ghazat Dermulki CHin" (1875), "CHangmoza Yuzuphan" (1881), "Nozugum" (1882)
Molla Haji (1830) Kashgar, "Tezkirei Bughrahan"
Molla Alawidin Gheribi (1880?-?) Kashgar, "Diwan Gheribi"
Muhemmet Tomur Qaraqshi (1820) Qaraqash, "Terziretul Rishat"
Muhemmed Welid Mirehmed SHeyh Gheribi (19-esir) Kashgar, "Tarihnamei Yaqubhan" Peterburg Ermitajda.
Muhemmed Dolet Hojayar Oghli Gherib ~ SHehyari (19- esir) SHayar, "Ishtiyaqname" dastan
Molla Ismetulla bin Mollanimetulla Mojizi (1854) Hoten, "Tewarihi Musiqiyun"
Muhemmed Rosul SHewqi (1853-?) Guma, "Diwani SHewqi"
Nadire (1792-1842) Enjan hakimi Rehman(Uyghur)ning qizi, Qoqand, Merghulan hakimi Omerhanning hotuni, "Diwan Nadire" bar.
Noruzahun Ziyai (18-19 esirler) Kashgar, "Wamuq-Uzra", "Mesut-Dilara", "CHahar Derwish" (Nizari bilen), "Mehzunulwaizin"
Sadir Palwan (1798-1871) Ghulja, qoshaqchi
Salahi, Muhemmed Ebu (1806) Kashgar, Qoqend, "Diwan Dadai", "Gul we Bulbul" bar
Sedai (1806) Mirhesen Sedai, Kashgar, "Diwan Sedai"
Seburi, Imir Huseyin (19- esir) Kashgar, "Newaining adaletperwerliki toghrisida", "Diwan Seburi", "Maqalat"
Seid Muhemmed (?-1821) Ghulja, "SHerhi SHikeste"
Seley CHaqqan (1816-1905) Kashgar, letipe yomurchi
Turdi Nazim Gheribi (1802-1862) Kashgar, "Kitabi Gheribi", "SHah Behram"
Zahid Ahun Pazilbay (1882) Semerqend, Yarkend, "Iskendername"
Zohuri (18-19 esirler) Turpan, Kashgar Zohuridin hakimbeg. "Diwan Zohuri"
Zumret (19- esir) shaire, Hoten, kop sheirleri "Bayaz"da chiqti.
"Abdurahman Han Hoja" dastani 1860- Hotende serkerde Abdurahman Hojani medhiylep yazghan dastan.
"Tarihi SHahruy" Niyaz Muhemmed Qoqend Pars tilida yazghan Qoqend tarihi.

20th Century AD
Abdulla SHerip Heste (1854-1907). Yarkend. "Kulliyati Heste" toplimi 1960 yillarda yutken.
Abduqadir Damollam (1862-1924) Abduqadir bin Abdulwaris,
Atush, "Serf Nehwi", "Ilmi Tewjid", Ilmi Hesap", Eqaid Zororiye", "Eqaid Jewheriye", "Nesheti Amme", "Tesilmi Sebiyat", "Miftail Edep"
Ami Zeif, Qul Elim (1879-1951) Qaghiliq, "Diwan Tejrid, "Tutiname" bar
Hestedil (1896-1945) Kashgar, "Zobdetul Tejribe Ez Fusul" esiri helq ichide tarqalghan.
Qari Baiz (1885-1939) Kucha, "Diwan Baizi" bar
Molla Supurgi Senjari (1864-1936) Guma, "Diwan Ghiyas", "Diwan Supurgi", "Gheribi Senjari" hemmisi yoq
Rahile (1860-1917) Atush, mullime, "Delailul Ulum" bar, Quranni kochurgen
Sabir Ahun bin Abduqadir Naqis (1840-1920) Yengisar, "Diwan Naqis", "Beys Hekimbeg", "Mewjudulqulub", "Nolli Dimen", "Nesihetname Usnur Bayani" larni yazghan, SHeyh Ineytullaning "Bahar Danish" dastanini terjime qilip "Gulzar Binish" dep at qoyghan.
Nozugum esli ismi CHolpangul (1807-1827?) Kashgar, Ili. qoshaqlar
Tejelli (1850?-1930) Qaghiliq
Shewqi, Qutluq Haji (1876-1937) Kashgar, "Ang" geziti, "Erkin Hayat" geziti, "Oyghndi", "Weqiei Kashgher" lerni yazghan we Qutadghu Biligni tonushturghan.
Yusup Gheribi, Ibni Yusup Jubeyri Ibn Petenush (186-1940) Qumul, bezi sheirleri bar.
References
Ablajan Memet Umityar. 2001. Treasures of Uyghur Classic Literature. Urumci: Xinjang People's Publishing House
(Ablajan Memet Umityar. 2001. Uyghur klassik edebiyati hezinisi. Urumci: Xinjang Helq Nexriyati.)
FEATURED INFO
The Book of omens (Irk Bitig)
Irk Bitig, the idea which initiated this project is a prophesy text. Going back to the early 9th century, Irk Bitig is the oldest runic inscription telling about the real and the spiritual world of the Ancient Turks, the good and the bad and the perception of fate in a very simple language and it was brought to stage as a basis for the inquisition idea for the purpose of foreseeing the future once again/collectively.
Irk Bitig, inscribed at the beginning of a mass emigration of ten thousands of people, who were preparing for a march to West in order to search for a new homeland in Central Asia about to change their own faith as well as the faith of the ancient world, is a text which summarizes the relations of the warrior and hunter groups of the steppe with nature, animals and each other...
This prophecy with a recurring structure consisting of 65 paragraphs, each of which ends either with "this is good" or "this is bad", brings its power and courage, the necessity for comments between the audience and the performers and the faith in comments through this play based on the text.
Through the voices, expressions and the relationship between the prognosticator and those who make him to prophesize, all within the tonality of the text, we come across an example voice theatre... This staging, which requires the participation of the audience by asking questions regarding the future, offers the audience a new aesthetic suggestion on theatre stage…
We constructed a play based on the values which form tradition, history and culture and we offered a new way of reading them out. We wanted to read out the future one more time by looking at the past. The artistic expansion of this work is the will to form contemporary disciplines by catching the gist of traditions.
First of all, voice. Why voice? In order to reflect all aspects of the past we internalized through the knowledge of the body. We believe that body contains historical memory. The body is on stage for us to watch both personal and social history almost without any interpretation.
Our questions on stage will be tangible. Our way of expression will be abstract, because we haven't heard our own voices yet. We will hear those first. And then we will express them. We are looking for our own voices. This is an example of experimental theatre. We will try to find our own naked voices, we will try to like them and then we will try to give meaning to them for all of us...
Our position on stage is a resistance position to "what there is, the ordinary and the order which does not answer any new questions" from an artistic and social perspective. It is an attempt to find the voice we swallowed. Open to participation.Source
Legend og Oguz (Oguzname)
A dictionary of Turkish mythology by Celal Beydili says:
"Oguz is a mythologic being in the Turkish ethno-cultural tradition, whose ancestral and cultural heroic lines have been very clearly drawn. Cultural tradition presents him as the founder of the state and the war institutions. According to some researchers, Oguz Khan in the mythologic and traditional context is the first human. Studies have revealed fundamental ties between him and the Sumerian Gilgamesh.
This definition comes from the thought that Oguz people are the celestial ancestors.
According to the Legend of Manas the war cry of the Kyrgyz people is "Oguz". When Almambet, a character of the legend, attacks on his enemies, he screams "Uguz"."........
..........Scientists have dwelled for so long with the Oguz Khan... Some has considered him the legendary ruler of the Huns "Mete" (Bahadir/Batur/Mao-tun), some Alexander the Great, while some considered him to be Cengiz Khan. They searched for his heroic tales and wars in the other Turkish legends, Mongolian legends and in the memories of the great steppes, without ever getting tired. The Oguz Khan legend and the legends appended to it were first written in the begining of the 13th or the 14th century. However, it has not been possible to date this legend to these dates. It has been certain that it goes a way older than these dates.
A historian of Turkish Culture, Bahaeddin Ögel, considers the theory, which claims Oguz Khan and Mete the Hun to be the same person, to be quite reasonable. And he goes even further saying that : "The legend of Oguz Khan lived long before Mete in Central Asia" and we also believe this is true.
The legend of Oguz Khan is such a legend that it has arrived to this geography of Taurus Mountains from the Mountains of Altai, witnessing the 2000 years journey of a nation in every step. Today it lives in Anatolia as the deep respect and love of the Turks towards their "Oguz Ata" (Father/Ancestor Oguz). Stories and the legends travels from people to people with small variations. Poets have been keeping a tradition alive. Children have been brought up with the tales of "Dede Korkut", considered a part of the legend.
The Legend "Oguzname", has taken on different shapes during the 10th and 12th centuries around the river Seyhun. It was turned into a book with the Uyghur script at the begining of the 14th century. In this volume kept today in the National Library of Paris, there is no trace of Islam, whatsoever.
In the first part of the legend, it tells the story of Oguz Khan the son of Ay Han, and in the second section it talks about the naming of the Oguz branches, their totems and tamgas. This text, besides having information about the living styles and traditions of the Oguz people, also keeps the oldest religious beliefs that have succeeded in reaching that day.
Oguz in the "Oguzname" of the second volume of the book "Camiü't ü Tevarih" by the official historian of the Mongolians, Reşideddin, appears as a Muslim of having the characteristics of almost a prophet. This very highly valued text of Resideddin is kept in the collection of Fatih the Conquerer in the Topkapi Palace.
The meaning of the word "Oguz" has been a long lasting problem for the historians and the linguists. Some said that the name Oguz came from the word "aguz" meaning the "first milk". There were also the ones, who'd said the name came from the words "ok" and "uz". According to this view, "ok" meant ok (arrow) and "uz" meant adam (man) and this way Oguz meant "men with arrows". However in Turkish, there was no trace of a word "uz" meaning "man". Hungarian scientist Nemeth's view was probably the most reasonable of all. According to him, the word was composed of "ok" and "z". "Ok" meant tribe and "z" was a plural suffix. So, the word Oguz might have originated from this, and the letter "k" could have been turned to a silent g in the process.Kemal Tayfur
Divanü Lügat-It Türk
Divanü Lügat-It Türk is a great encyclopaedical work written by Kaşgarli Mahmud in the 11th century. This masterpiece gives us detailed information on the Turkish culture of the time. Divanü Lügat-it-Türk was written in order to teach Turkish in 11th century.
This map, made by Mahmud Kashgari bin Husayn bin Muhammad, was included in his Divanu Lügat-it-Türk, a scientific work he published in 1072 (AD) for the benefit of the Caliph of Baghdad. It is the first world map of Turkish origin known in history, and is preserved at the General National Library (Millet Genel Kütüphanesi) in Istanbul.
The map is ( please refer to the main picture on the left) oriented with the east on top (but is shown here with north on top) and centres on the Turkic areas in Central Asia, which include Kashgar, the birth-place of Kashgari. The map scale is reduced towards the edges of the map. The geographical features are colour-coded thus:
Blue – rivers , Green – seas , Light yellow – deserts , Red – mountains
Yellow – cities, countries, lands and peoples
This map was taken from the excellent stamp website mentioned in the previous post, and is overlaid with numbers 1-24 to indicate references to (mostly) real places. Which are:
The map is oriented with the east on top (but is shown here with north on top) and centres on the Turkic areas in Central Asia, which include Kashgar, the birth-place of Kashgari. The map scale is reduced towards the edges of the map. The geographical features are colour-coded thus:
Blue – rivers
Green – seas
Light yellow – deserts
Red – mountains
Yellow – cities, countries, lands and peoples
This map was taken from the excellent stamp website mentioned in the previous post, and is overlaid with numbers 1-24 to indicate references to (mostly) real places. Which are:
1.Bulgaria (judging by its location, probably the so-called Wolga-Bulgaria rather than present-day Bulgaria) 2.Caspian Sea , 3.'Rus' (Russia), 4.Alexandria,5.Egypt 6. Tashkent, 7.Japan (surrounded by a green semicircle). 8.China (with water to the west), 9.Balasagun (now in Kyrgyzstan, then the 'centre of the world') , 10.Kashgar (the map-maker's birthplace),11. amarqand, 12.Iraq, 13.Azerbaijan, 14.Yemen , 15.East Somalia, 16.East Sahara, 17.Ethiopia, 18.North Somalia, 19.Indus, 20.Hindustan, 21. Ceylon (Adam's Peak or Jebel Serandib, indicated by the red dot on the south of the island, supposedly is where Adam was exiled to after being kicked out of Paradise), 22.Kashmir, 23. Gog and Magog (Biblical/legendary land walled off from the world by a mountain range), 24. The World-Encircling Sea
Kutadgu Bilig
The Kutadgu Bilig, or Qutadğu Bilig (pronounced /kuːˈtɑːdɡuː ˈbɪlɪk/ in English; proposed Middle Turkic, IPA: [qʊtɑðˈɢʊ bɪˈlɪɡ]), is a Karakhanid work from the 11th century written by an Uyghur author Yusūf Khāṣṣ Ḥājib of Balasagun for the prince of Kashgar. Translated, the title means something like "The Wisdom which brings Happiness" or "The Wisdom that Conduces to Royal Glory or Fortune" (Dankoff, 1), but is often translated more concisely as "(The) Wisdom of Royal Glory". The text reflects the author's and his society's beliefs, feelings, and practices with regard to quite a few topics, and depicts interesting facets of various aspects of life in the Karakhanid empire. While not produced in Turkey, and more accurately referred to as Turkic literature, the Kutadgu Bilig is often considered to belong to the body of Turkish literature.
Kutadgu Bilig - History
The Kutadgu Bilig was completed in 462 (1069/1070) and presented to Tavghach Bughra Khan, the prince of Kashgar. It was well-known through the Timurid era (Dankoff, 3), but only three manuscripts—referred to by the name of the city they were discovered in—survived to give us our modern knowledge of the text:
1. Herat (Vienna) - A scribe brought the copy to Constantinople in 1474, and it eventually ended up in Vienna. According to Wilhelm Bartoldt, the copy was made in 1439 in Herat. It was written in the Uyghur alphabet.
2. Cairo - The copy was found in a Mamluk library in 1897 in Cairo; the Mamluk ruler of 1293-1341 is mentioned in the copy, which is written in the Arabic script.
3. Namangan or Istanbul - The copy was found in Namangan in 1943, and was probably written in the 13th or 14th century. The content of the three texts, while generally the same, differs in many finer points, such as word choice.
Access to the Reality  (Atebetü'l Hakayık)
Access to the Reality  Atebetü'l Hakayık
Edib Ahmed Yüknekî wrote this book in beginning of 12th Century.  It was known by the name of "Hibetü'l-Hakayık", veya "Aybetü'l-Akayık" the clealy describing the knowledge is only the way to understanding world, God and Human being.  His worked on the advantage of the knowledge, the disadvantage of the illiteracy  
Written Uyghur
The oldest written records are found upon stone monuments in Central Asia, in the Orhon, Yenisey and Talas regions within the boundaries of present-day Mongolia. These were erected to Bilge Kaghan (735), Kültigin (732), and the vizier Tonyukuk (724-726). These monuments document the social and political life of the Gokturk Dynasty.
After the waning of the Gokturk state, the Uyghur produced many written texts that are among the most important source works for the Turkish language. The Uyghur abandoned shamanism (the original Turkish religion) in favor of Buddhism, Manichaeanism and Brahmanism, and translated the pious and philosophical works into Turkish. Examples are Altun Yaruk, Mautrisimit, Sekiz Yükmek, Huastunift. These are collected in Turkische Turfan-Texte. The Gokturk inscriptions, together with Uyghur writings, are in a language called by scholars Old Turkish. This term refers to the Turkish spoken, prior to the conversion to Islam, on the steppes of Mongolia and Tarim basin.