Highlights of Uyghur Literature
Abduhalik Uyghur (9 February 1901 - 13 March 1933) (Uyghur: ئابدۇخالىق ئۇيغۇر) was a Uyghur poet. Abudhalik began his studies in a Madrasah at the age of eight. He studied Arabic, Persian, and Uyghur classics and Chinese literary works. After 1923 he spent 3 years in the Soviet Union. Studying the works of Pushkin, Tolstoy, Gorki and other Russian literature. He was executed by Sheng Shicai at the age of 32, on the thirteenth of March, 1933.
Abdurehim Tileshüp Ötkür (1923-5 October 1995) (Uyghur:ئابدۇرېھىم تىلەشۈپ ئۆتكۈر) was a popular Uyghur author and poet. Ötkür was born in Kumul, Uyghur Region . He graduated from Xinjiang University in 1942. He then worked as the editor of the newspaper Altay Geziti till 1949. From 1949 till 1980 he worked as an interpreter in various governmental offices—as he knew Uyghur, Chinese, Russian and English all well. From 1980 to his death Ötkür worked as a scholar in the Institute of Literature Studies of the Academy of Philosophy and Social Sciences, Xinjiang. In 1988 was appointed as a Vice Chairman of the Society of Kutadgu Bilig Studies. He first published his poems in 1940. The last novels of the author "Iz" (The Track) and "Oyghanghan Zimin" (The Awaked Land) became the most popular novels among Uyghur people.
Abduxukur Muhemmetimin (09/28/1933 - 02/27/1995) A famous writer, professor, poet. He published books about Uighur classic 12 muqam, Uighur Philosophical History. He also wrote about 300 articles in different topics of Uighur history and culture. He is the author of more than 1000 poems.
Ali Shir Nava'i Ali Sir Nevai is a scholar and statesman trying to make Turkish a supreme language of art, advocating this idea and valuing Turkish language. He was born in 1441 in Herat. Ali Sîr Nevâî has five separate divans, four being in Turkish and one in Persian. The general name of his Turkish divans is Hazâinü'l Maânî'. His divans in Turkish are named Garâibü's-Sagîr, Nevâdirü's Sebâb, Bedâyiü'l-Vasat and Fevâidü'l-Kiber. Ali Sîr Nevâî, who wrote the first hamse, with his Hamse, consisting of his five mesnevis. Ali Sîr Nevâî has 18 more books except for his divans. These are as follows in turn: Hayretü'l-Ebrâr, Ferhat ve Sirin, Leyla ve Mecnun, Seb'a-i Seyyârem, Sedd-i Iskender, Lisânü't-Tayr, Muhâkemetü'l-Lügateyn, Mecâlisü'n-Nefâis, Mîzânü'l-Evzân, Nesâimü'l-Mehabbe, Nazmü'l-Cevâhir, Hamsetü'l-Mütehayyirîn, Tühfetü'lMülûk, Münseât, Sirâcü'l-Müslimîn, Tarihu'l-Enbiyâ, Mahbûbü'l-Kulûb fi'l-Ahlâk, Seyfü'l-Hâdî and Rekâbet-ü'l-Münâdî.
Amannisa Khan Amannisa Khan was Queen of the Yarkand Khanate or Uyghurstan. She made great effort to collect and study Uyghur 12 MUqams. The only known source mentioning her by name is the History of Musicians (Tavarikh-i Musiqiyyun) by Mu'jiz (Mojize).In the 1990s a mausoleum was built in her birthplace (Yarkand) to honour her contribution to Uyghur culture.
Babur Shah, the great conqueror of India is a Turk from Fergana. He is a member of Turk Barlas Tribe, and the grandson of Tamerlane. He is the son of Omar Sheik Mirza, the ruler of Fergana. He was born in Andican town of Fergana in Western Turkeli on 14 February 1483.The major statesman and poet founding a big empire in India died in Agra on 26 December 1530 and his body was taken to Kabil afterwards to be buried in a perfect tomb out of the city. The book named Babürname, in which he wrote his memories in Chagatai Turkish was translated by Abdurrahman Khan into Persian and by Pavet de Courteille into English. In addition, he has Turkish and Persian poems, a booklet of prosody, a Islamic Law book in verses named Mübîn or Mübeyyen. The great state he founded ended with the invasion of India by British in 1858. Today, brother country Pakistan and India exists on these territories.
Eastern Turkestan munazaras (Prov. 207, 208:4, 302:2)
Examples from the collection
FARABI A great thinker and famous music master. He was born in Farab town by Seyhun river in Turkistan in 870. His real name is Ebu Nasir Muhammed ibn Türkan el Farabi. He made his primary school education in Farab and his high education in Baghdad. He learnt Persian, Arabic, Latin, and Greek. He had great knowledge on logic, philosophy, mathematics, medicine and music. He gave more than 100 books on these issues. Now, only 39 of his books are left. At the same time, he interpreted the books of Aristo. He passed away in 950 in Damascus. He lies at Babüssagir graveyard.
Fuzuli was born in Hille town of Iraq, in 1494. He is from Turk Bayat tribe in origin. His most well-known book is Leyla ile Mecnun, a love story full of myths of the East. This valuable book was translated into several languages. Fuzuli died in Kerbela of plague in 1555. His tomb is still there. Fuzuli had learned the scientific and medical knowledge of his era very well. As a matter of fact, his booklet named Ruhname or Sihhat ve Maraz shows that he was engaged in medical science too.
Gunnar Jarring In 1982 the Swedish diplomat and philologist Gunnar Jarring (1907-2002) donated his unique collection of manuscripts from Eastern Turkestan to the University Library in Lund. It is an extremely rich collection of Eastern Turkestan manuscripts, the third largest in the world. The manuscripts come from the periphery of the Islamic world in Central Asia, nowadays the Chinese province of Xinjiang, from cities like Kashghar and Yarkand, situated along the old Silk Road. Gunnar Jarring was born in 1907 in a family of farmers in Brunnby, in the south of Sweden. In 1926 he began his studies at Lund University. He started with German and Nordic languages with the intention to become a teacher, but eventually became more and more interested in foreign languages. He continued with Russian, Czech and Sanskrit before he got caught by Turkish. When Jarring had decided to continue with his Turkish studies he got the advice from his lecturer Gustaf Raquette to study the language in the field, either Ottoman Turkish in Istanbul, or Eastern Turkish in Eastern Turkestan. Raquette himself had learnt the language during his years as a missionary-surgeon in Kashghar and Yarkand. Jarring thought Eastern Turkestan sounded most exciting, and in the autumn of 1929 he went there in order to collect material for his doctoral thesis. The field studies resulted in his thesis Studien zu einer osttürkischen Lautlehre [Studies in Eastern Turkic phonetics], presented at Lund University in 1933. Two years later he made an attempt to return to Kashghar, through India and the Karakorum pass. When he arrived to Srinagar in Kashmir, on the other side of the Chinese border, he was told that the road had been closed, due to the instable political situation in the region. Instead he took the opportunity to study Eastern Turkestan travellers and refugees passing Srinagar[1]. He also made sound recordings of Eastern Turkestan dialects. Digital copies of these wax recordings are stored at Lund University Library. In 1957 Jarring was mediator for the United Nations in the Kashmir conflict. After the 1967 Arab-Israeli War he was appointed by the UN Secretary-General as a special envoy for the Middle East peace process, the so-called Jarring Mission, a commission he held until 1990. Along his diplomatic career Jarring continued with his research in the Eastern Turkestan languages, with the manuscripts in his own collection as a starting-point. The pace of his research was accelerated after his retirement and was proceeded until his death in 2002, at the age of 94.
Kérim xoja (1928-1988) he was born in Qumul, Poet, and Literary translator he translated Chinese classic, Dream at Red Mensions, red etc.
Lewis Wallace's Ben Hur (Prov. 119)
Mahmud Kashgari He is a Turkish linguist who lived in 11th century. He is famous with his book named Divân-i Lügati't-Türk. He is from Karahanli lineage. He presented to Abbasi caliph el-Muktedi Billah his book he began to write in 1072 in Baghdad having completed in 1074. The only handwritten copy of the book is found in 1910 in Fatih Millet Library. The exact birth date of Kasgarli Mahmut, the first Turkish linguist who grew up in Karahan period, is not known but estimated to be 1025. His father was an emir from Barsagan. Mahmut, who lived in Baghdad between 1071-1077, played an important role in introduction of Turkish culture to Arabs.
Nava'i, Divan (Prov. 450)
Risale of the rainmakers, jadaci-risale (Prov. 53)
The History of Ya'qub Beg (Prov. 115, 116, 117, 163, 197, 478)
These brief descriptions show the great variety of the collection:
Turdi Akhun Turdi Akhun (died 1956)[1] was a noted Uyghur composer and musical performer and greatest Uyghur muqam master.In 1956, Muqam master Turdi Ahun and musician Wan Tongshu, working with other assistants, took great pains to record most of the vocal melodies and librettos of the Twelve Muqam on tape. They also recorded the music by hand. Their efforts paved the way for the renaissance of this cultural tradition. In 1960, two volumes of Twelve Muqam sung by Turdi Ahun were published.
Yusup Has Hajip, a philosopher and poet, was born at Balasagun in 1019, Kutadghu Bilig" (Knowledge, Source of Happiness). Written in ancient Uyghur and then dedicated to the ruler of Karakhanid Dynasty. He died in 1085 at age 67.
Ziya Samedi (Russian: Зия Самеди) (1914-20 November 2000) was a Uyghur author, politician, who emigrated to Kazakstan.
Zordun Sabir (1937-13 August 1998) (Uyghur: زوردۇن سابىر) is a popular Uyghur author. His most famous work is the historical novel "Anayurt".

Origins of the Uyghur
The Uyghur were originially a member of the Gaoche ( Egiz Harwiliqlar) Turkic peoples with the name Uyghur ( Chinese Sources : Yuanhe). In the 6th-early 7th centuries, they were known with the name Uyghur ( Chinese Sources : Weihe), but their name was changed to Uyghur ( Chinese Sources : Huihe) (and later to Huigu) in Chinese. They were also one of the members of the Toquz Oghuz alliance established by the Tiele living in Mongolia in the 620s.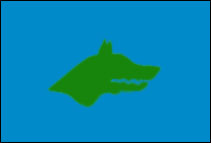 Flag of Köktürk Qaghanate
In the early 7th century, the Uyhurs were the subjects of the Eastern Gök Türk (aka Tujue, Kök Türük, Türük) Qaghanate; but when this qaghanate declined, they united with the Sir-Tardush Alliance and they rebelled against the Gök Türks. After overthrowing the Sir-Tardush, the Uyghur founded a semi-independent qaghanate in the Selenge Valley from where they could raid as far as Tashkend and Huanghe. This qaghanate was brought under Eastern Gök Türk rule again .In 714, the Uyghur, together with the other Toquz Oghuz, rebelled but the rebellion was put down by Qapghan Qaghan in 715. However, the Uyghur became the semi-independent vassals of the qaghanate's Western half. In 742, the Uyghur, Qarluqs and Basmïls rebelled, captured the Eastern Gök Türk's center Ötüken, killed the last Gök Türk rulers in 744 and destroyed the Gök Türk Qaghanate. However, in 745, the Qaghan of Basmïls was killed, the Qarluqs were defeated and they were forced to migrate; thus, the Uyghur became the supreme rulers of Mongolia.

Rise of the Uyghur Qaghanate: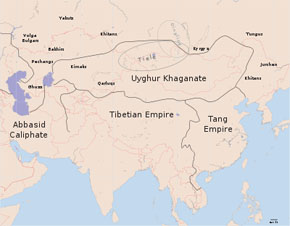 The first qaghan of the Uyghur was Qutlugh Bilge Köl Qaghan, who founded a new city, Ordu Balïq, also known as Qara Balghasun, and he moved the capital from Ötüken to there. He died in 747, and he was succeded by Bayan Chor (Moyan Chuo in Chinese; his Turkic title was Tengride Bolmïsh Il-Itmish Bilge Qaghan). Bayan Chor's main aim was to unite all the steppe peoples under the Uyghur banner; and he brought many peoples like the Sekiz Oghuz, Qïrghïz, Qarluqs, Türgish, Basmïls, Toquz Tatars and Chiks under Uyghur rule. As a result of these campaigns, the borders of the Uyghur Qaghanate reached Yenisey in the North, valleys of Chu and Talas in the West and the river Kerülen in the East. At that time, the Tang Dynasty of China began to withdraw from Central Asia. Bayan Chor acted quickly and captured the Tarim Basin, a fertile area full of farms and towns.
In the mid-8th century, China was shaken by a series of rebellions, the biggest being that of An Lushan. The Tang emperor asked Bayan Chor for help, the qaghan helped him to put down the rebellions and expel an invading Tibetan army, and then forced the emperor to pay tributes to the Uyghur. He married with the daughter of the emperor and died in 759.

Golden Age of the Uyghur Qaghanate:
After Bayan Chor's death, Bögü Qaghan (his title was Tengride Qut Bolmïsh Il-Tutmush Alp Külüg Bilge Qaghan) became the new ruler. At that time, China fell into a civil war, before the Uyghur could intervene, the rebellions were put down but the Uyghur became very influential in Tang China. In 762, Bögü Qaghan launched a campaign against the Tibetans with the Tang and he managed to re-capture Luoyang (the Western capital of Tang) from the Tibetans. During the campaign, Bögü Qaghan met with Manikheist priests and soon, he converted to Manicheism. After this, Manikheism became the official religion of the Uyghur Qaghanate.
Bögü Qaghan later put down the Qïrghïz Rebellion and he decided to invade China again in 779, but his generals warned him about the difficulties and handicaps of such a possible invasion of such a wide area. A bitter arguement broke out between him and his generals, and during a quarrel, he was killed by Tun Bagha Tarqan, a famous Uyghur general.
Bagha Tarqan (titled as Alp Qutlugh Bilge Qaghan) was famous from his laws, which were made to secure the unity of the qaghanate. He defeated the Qïrghïz, married with a Tang princess and improved the Uyghur relationships with China.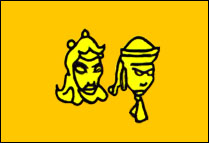 Flag of Uyghur Qaghanate
Decline and Collapse of the Uyghur Qaghanate:
Bagha Tarqan was succeded by his son Ay Tengride Qut Bolmïsh Külüg Bilge Qaghan who was succeded by Qutlugh Bilge Qaghan. During the reign of Qutlugh Bilge Qaghan, the Tibetans allied with the "Desert Turks" (Shatuo Tujue) and they raided the borders of the qaghanate. The Uyghurs tried to expel the raiders but they were defeated, which caused chaos in the Uyghur capital. In 795, Qutlugh Bilge Qaghan was killed but before the qaghanate fell into pieces, an Ediz-origined (Ediz were one of the Turkic tribes) general named Qutlugh (titled as Ay Tengride Ülüg Bolmïsh Alp Qutlugh Bilge Qaghan) was declared as the Uyghur qaghan. With Qutlugh, the Uyghur dynasty passed to the Ediz from the Yaghlaqar tribe. During his rule and his son Ay Tengride Qut Bolmïsh Külüg Bilge Qaghan's reign, the qaghanate lived in peace; especially Ediz Qutlugh was known from his ability in rulership and generalship. His son gave importance to trade and improved it in Inner Asia. After the peaceful reign of Ay Tengride Qut Bolmïsh Alp Bilge Qaghan, Ay Tengride Ülüg Bolmïsh Küchlüg Bilge Qaghan became the last great qaghan of the Uyghurs. He stopped the invading Tibetans, appointed a Yabghu on the Qarluqs and improved commerce relationships up to Soghdiana. However, in 833, the qaghanate fell into anarchy and the qaghan was killed. His succesor and nephew Ay Tengride Qut Bolmïsh Alp Külüg Bilge Qaghan was killed in 839 by a rebellion commanded by one of his ministers. In the winter of 839, a famine broke out and in the spring of 840, the Qïrghïz invaded Mongolia. Qara Balghasun (Ordu Balïq) was captured, it was sacked and it's residents were massacred, including the last ruler Hesa Qaghan. Several years after the fall of their capital, the Uyghurs fled towards south and southwest, where they set up two kingdoms in Gansu and Turfan (Gaochang) whereas an important number of them were massacred by their rivals. These states were not great military powers like their ancestors but they gave more importance to trade, arts and science. They also influenced the Mongols on a large scale later, who made Uyghur dialect one their official language of their empire (and the Uyghur script their official writing system).
From AllEmpire
Talas War  
In the great Talas battle that took place between the Islamic forces that were reinforced by Uyghur and Karluk people and Chinese people, the Chinese people were totally defeated. This war ended up with the capture of Tarim basin by the Uyghur people. Upon this war, China retreated from the Central Asia. Therefore, some important events took place in China. The most important event was the capture of Lo-yang and C'ang-an (by a commander named as An-lu-san who had a Turkish mother with his forces composed of 200 thousands of people. Then, he declared his empire. Mo-yen-çur supported the T'ang emperor, Su-stung. He recaptured Lo-yang . Therefore, China guaranteed to submit an annual amount of 200 thousands of silk rolls to the Uyghur 
840 CE – 1800 CE
Following the collapse of the Uyghur Khaganate, the Uyghur gave up Mongolia and established kingdoms in three areas: present day Gansu, Uyghur Region, and the Chu River the West of Tengri-Tag Mountains.
Yugor, The eastern-most of the three Uyghur states was the Ganzhou Kingdom (870–1036 CE), with its capital near present-day Zhangye in the Gansu province of China. There, the Uyghur converted from Manichaeism to Lamaism (Tibetan and Mongol Buddhism). Unlike other Turkic peoples further west, they did not later convert to Islam. Their descendants are now known as Yugurs (or Yogir, Yugor, and Sary Uyghurs, literally meaning "yellow Uyghurs") and are distinct from modern Uyghurs. In 1028–1036 CE, the Yugors were defeated in a bloody war and forcibly absorbed into the Tangut kingdom.
Karakhoja, The central of the three Uyghur states was the Karakhoja kingdom (created during 856–866 CE), also called the "Idiqut" ("Holy Wealth, Glory") state, and was based around the cities of Turpan (winter capital), Beshbalik (summer capital), Kumul, and Kucha. A Buddhist state, with state-sponsored Buddhism and Manicheism, it can be considered the center of Uyghur culture. The Idiquts (title of the Karakhoja rulers) ruled independently until 1209, when they submitted to the Mongols under Genghis Khan and, as vassal rulers, existed until 1335.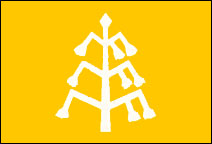 Flag of Karakhans
Kara-Khanids, or the Karakhans (Great Khans) Dynasty, was the westernmost of the three Uyghur states. The Karakhans (Karakhanliks) originated from Uyghur tribes settled in the Chu River Valley after 840 and ruled between 940–1212 in Turkistan and Maveraünnehir. They converted to Islam in 934 under the rule of Sultan Satuq Bughra Khan (920–956 AD) and, after taking power over Qarluks in 940, built a federation with Muslim institutions. Together with the Samanids of Samarkand, they considered themselves the defenders of Islam against the Buddhist Uyghur Idiqut. The first capital of the Karahans was established in the city of Balasagun in the Chu River Valley and later was moved to Kashgar.
The reign of the Uyghur's Karakhans is especially significant from the point of view of Turkic culture and art history. During this period mosques, schools, bridges, and caravansarais were constructed in the cities. Kashgar, Bukhara and Samarkand became centers of learning. During this period, Turkic literature developed. Among the most important works of the period is Kutadgu Bilig (English: "The Knowledge That Gives Happiness"), written by Yusuf Balasaghuni between the years 1060–1070, and Lughat-at-Turk(The Turkic dictionary) by Mahmud of Kashgar.
Both the Idiqut and the Kara-Khanid states eventually submitted to the Kara Khitais. After the rise of the Seljuk Turks in Iran, the Kara-Khanids became nominal vassals of the Seljuks as well. Later they would serve the dual-suzerainty of the Kara-Khitans to the north and the Seljuks to the south. Finally all three states became vassals to Genghis Khan in 1209.
Tsagadai, Jagatai, or Chaghatai (died 1241)
the second son of Genghis Khan who, at his father's death, received Kashgaria (now the southern part of Uyghur Autonomous Region of Xinjiang, China) and most of Transoxania between the Amu Darya and the Syr Darya (ancient Oxus and Jaxartes rivers, respectively) as his vassal kingdom. His capital was at Almarikh near present-day Kuldja (Yining), in western Uyghur Region. Chagatai appears to have been a just and energetic ruler for about 14 years. Although it is recorded that he left numerous children, he was succeeded by a grandson, Kara Hülegü (Encyclopædia Britannica)
Most Uyghur inhabitants of the Besh Balik and Turpan regions did not convert to Islam until the 15th century expansion of the Yarkand Khanate, a Turko-Mongol successor state based in western Tarim. Before converting to Islam, Uyghurs were Tengriist, Manichaeans, Buddhists, or Nestorian Christians.
State of Yarkand ( Saidiye Khanate  )
Tombs of Yarkand Khans (near Altyn Mosque)In May, 1514, Sultan Said Khan, grandson of Yunus Khan (ruler of Moghulistan between 1462 and 1487) and third son of Akhmad Khan, made an expedition against Kashgar from Andijan with only 5000 men, and having captured the Yangihisar citadel, that defended Kashgar from south road, took the city, dethroning Mirza Abu-Bakr. Soon after, other cities of Eastern Turkestan — Yarkand, Khotan, Aksu, and Uch Turpan — joined him, and recognized Sultan Said Khan as ruler, creating a union of six cities, called Altishahr. Sultan Said Khan's sudden success is considered to be contributed to by the dissatisfaction of the population with the tyrannical rule of Mirza Abu-Bakr and the unwillingness of the dughlat amirs to fight against a descendant of Chagatai Khan, deciding instead to bring the head of the slain ruler to Sultan Said Khan. This move put an end to almost 300 years of rule (nominal and actual) by the Dughlat Amirs in the cities of West Kashgaria (1219-1514). He made Yarkand the capital of a state, "Mamlakati Yarkand" which lasted until 1678.
The Khojah Period
In the 17th century, A Sufi master Khoja Āfāq defeated Saidiye kingdom and took the throne at Kashgar with the help of the Oirat (Dzungar) Mongols. The Khoja dynasty rule in the Altishahr(Tarim Basin) region lasted until 1759.
East Turkistan
To the west of Kashgaria in East Turkistan (now in western Uyghur Region), a khanate of Khokand emerged after 1760 in the Fergana region and became a powerful caravan trade centre. In 1762 the Qing government countered this by establishing a presence in the Ili (Yili) River region. When Muslim rebellion spread rapidly from Shaanxi and Gansu to East Turkistan, an adventurer from Khokand, Yakub Beg, seized the opportunity to captuted Kashgaria and established (Encyclopædia Britannica)"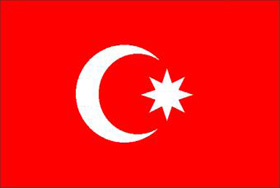 Flag of Kashgaria

Under Qing
Kashgar and the other cities of the Tarim basin remained under Yakub Beg's rule until December 1877. Yakub Beg's rule lasted until General Zuo Zongtang (also known as General Tso) reconquered the region in 1877 for Qing China. with the help of Uk and TsarIn 1881, Qing China recovered the Gulja region through diplomatic negotiations (Treaty of Saint Petersburg (1881)).
In 1884, Qing China renamed the conquered region, established and named Xinjiang ("new frontier") as a province, formally applying onto it the political system of China proper. For the 1st time the name "Xinjiang" replaced old historical names such as "Western Regions", "Chinese Turkestan", "Eastern Turkestan", "Uyghuristan", "Kashgaria", "Uyghuria" , "Alter Sheher" and "Yetti Sheher".
20th Century and after the Qing Dynasty
In 1912 the Qing Dynasty was replaced by the Republic of China. Yuan Dahua, the last Qing governor of Xinjiang, fled. One of his subordinates Yang Zengxin (杨增新), acceded to the Republic of China in March of the same year, and maintained control of Xinjiang until his death in 1928. Following insurgencies against Governor Jin Shuren (金树仁) in the early 1930s, a rebellion in Kashgar led to establishment of the short-lived First East Turkistan Republic (1st ETA) in 12 Nov, 1933. The ETR claimed authority over territory stretching from Aksu along the northern rim of the Tarim Basin to Khotan in the south. Uyghur region was brought under the control of the Chinese warlord Sheng Shicai (盛世才), who ruled Xinjiang for the next decade with close support from the Soviet Union, following some of its ethnic and security policies. Sheng invited a group of Chinese Communists to Uyghur Region, including Mao Zedong's brother Mao Zemin, but in 1943, fearing a conspiracy, Sheng killed all communists, including Mao Zemin, in Uyghur Region.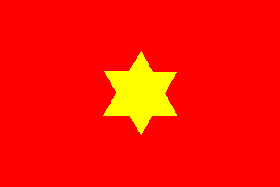 Sheng Shicai 's Flag
A Second East Turkistan Republic (2nd ETA, also known as the Three Districts Revolution) existed from 1944-1949 with Soviet support in what is now Ili Kazakh Autonomous Prefecture in northern Uyghur Region.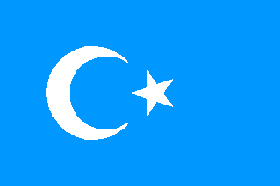 Flag of East Turkistan Republic
The Second East Turkistan Republic came to an end when the People's Liberation Army (PLA) entered Uyghur Region in 1949. According to the PRC interpretation, the 2nd ETA was Uyghur Region's revolution, a positive part of the communist revolution in China; the 2nd ETA acceded to and welcomed the PLA when they entered Uyghur Region, a process known as the Peaceful Liberation of Uyghur Region. However independence advocates view the ETA as an effort to establish an independent state, and the subsequent PLA entry as an invasion. The autonomous region of the PRC was established on October 1, 1955, replacing the province. The PRC's first nuclear test was carried out at Lop Nur, Uyghur Region, on October 16, 1964.